BCW 2005
Champagne British Car Festival - Illinois
By Howard Baugues
British Car Week - 2005 - Champagne, Illinois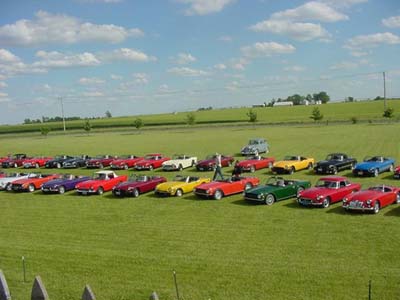 May 28th, Saturday:

We started off this years British Car "driving" Week by attending the Champagne British Car Festival in Champaign IL, by driving my 76 Triumph Spitfire 85 miles to attend the Saturday festivities. Along the way we never spotted any LBCs until we were within 20 miles of the host hotel. We had stopped to lower the top and enjoy the sushine after some morning showers and a beautiful TR4 stopped to offer assistance.

Upon arriving at the host hotel, the area was rich with a variety of Britsh metal in every direction. About 100 British cars were attending the Saturday events. An afternoon drive was scheduled to explore the country roads, but we were only able to travel 2 miles of it before a half-axle U-joint broke, stopping us on the side of the road. Quick calls were made, and everyone else went on down the road while we waited for support staff to pick us up. A stop by Autozone and a late evening roadside tech session and the axle was repaired and we were back on the road again.
May 29th, Sunday:

The morning started out early as I lead the Early Morning Risers drive at 6:30am. A brisk drive through the countryside with 13 British cars participating. Spectators along the way would stop & wave as we passed. Once returning to the host hotel, the show field was filling as more & more British metal came in from surrounding areas. Over 120 cars graced the show. That evening we travelled home without mechanical problems, but did not see any other LBCs once leaving the festival area.

May 30th, Monday:

Memorial Day we took the Spit on a short local drive to run some errands. No other LBCs were sighted.

May 31st, Tuesday:

Return to work after the holiday weekend, and I drove the Spitfire under sunny skies. No other LBCs were sighted, but when I stopped at a gas station to fill up, a 12 yr old boy came running up to ask what kind of car, and how fast will it go. So possibly some interest was sparked in one child's mind.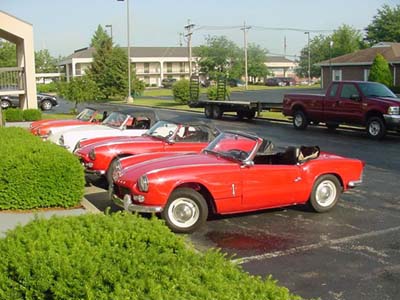 June 1st & 2nd, Wednesday & Thursday:

Regular workdays and I drove the Spitfire, which brought questions & comments from other employees concerning LBC ownership. No LBC sightings these days.

June 3rd, Friday:

Headed out via country roads from west central Indiana toward Louisville Kentucky, for the annual "Marques on the Green" festivities. Met up with Kevin Ludwig in his red 65 Spitfire MkII in Bloomington, Indiana. We proceeded south-southeast toward the Ohio river but never saw any LBCs in the entire 100+ mile drive. It was raining off & on so that might have kept some from bringing out their prized possessions.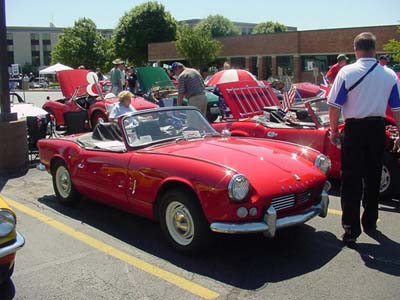 At the motel we spotted another red 65 Spitfire MkII, and a bronze 59 Austin Healey 3000. Soon a gold Triumph TR8 pulled up, and a white 68 Spitfire Mk3. All the Spitfires headed over to a NASS members house for a cookout where more Spitfires & GT6s were found.

June 4, Saturday:

Eager to get to the car show, we made arrangements with the hotel staff to use a hose & towels to wash our cars in the parking lot before leaving. Once they were clean & spotless, we headed north to the show field at St. Josephs Childrens Home. There on the front lawn were about 80-100 British cars lined up all over the grass. By noon, there were 222 British cars, trucks & motorcycles on the showfield, with a few more sitting off to the side. The day remained sunny and warm, and the drive back home was peaceful & pleasant.

June 5th, Sunday:

I decided to let Molly (our Spitfire) get some well deserved rest, as did I. So our Drive your British Car week started off with a large gathering of British iron, and ended with an even larger gathering of British iron.

Back to British Car Week
© 2016 British Car Week
www.britishcarweek.org